LOG IN:
You must be a registered user.
To register, click here.

Forgot your password?
BROWSE OUR LIBRARY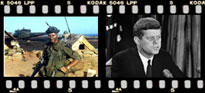 South Vietnam Falls - 1975
J.F.K. On Vietnam And The Problem Of The Next ''Decade'' - 1961

---

The Video Encyclopedia of the 20th Century (VETC) is a definitive collection of motion picture film and videotape recording the social, political and cultural history of the 20th Century from 1893. It is owned and distributed by Sunrise Media.